The Book Blogger Hop was originally created by Jennifer @ Crazy-For-Books in March 2010 and ended on December 31, 2012. With Jennifer's permission, Billy @ Ramblings of a Coffee Addicted Writer relaunched the hop on February 15, 2013. Each week the hop will start on a Friday and end the following Thursday. There will be a weekly prompt featuring a book related question. The hop's purpose is to give bloggers a chance to follow other blogs, learn about new books, befriend other bloggers, and receive new followers to their own blog.
Welcome to my sixth post for the Weekly Book Blogger Hop!
---
Topic Run Dates: May 7th – 13th, 2021
Question
Do you collect bookmarks?(submitted by Elizabeth @ Silver's Reviews) 
---
Answer
The simple answer is no.
I used to have random bookmarks that were free and I bought some along the way when I was younger. Recently, I found that I have been using ribbons for bookmarks anytime that I read a paperback/hardcover novel. I think the ribbons were older ones that came on presents given to me, so I did not even buy those.
Considering the two pictures below, I think that I should at least start getting bookmarks of some kind back into my life. I am not sure if I will ever collect them, but I think some nice actual bookmarks would be lovely to have and use!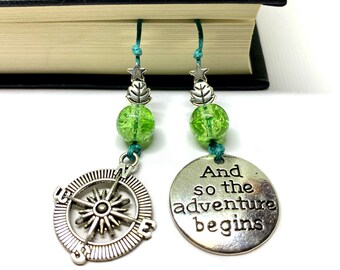 ---
How about you? Do you use bookmarks and, if so, do you collect them?