The Book Blogger Hop was originally created by Jennifer @ Crazy-For-Books in March 2010 and ended on December 31, 2012. With Jennifer's permission, Billy @ Ramblings of a Coffee Addicted Writer relaunched the hop on February 15, 2013. Each week the hop will start on a Friday and end the following Thursday. There will be a weekly prompt featuring a book related question. The hop's purpose is to give bloggers a chance to follow other blogs, learn about new books, befriend other bloggers, and receive new followers to their own blog.
---
Topic Run Dates: February 11th – 17th, 2022
Question
On average, how long does it take you to write a review? (submitted by Billy @ Coffee Addicted Writer)
---
Answer
The short answer to this is "it depends."
When I complete a story, I try to begin writing a review as close to my finishing time as possible. If I finish a novel in the morning, I try to write the review before the end of the day. If I finish one right before bed, I try to write it soon after I wake up. This is my current way to get my initial thoughts recorded as I enjoy looking back on my very first thoughts compared to looking back on a story over time. Once it is actually written, usually it is posted the next day. If all goes well, then a review is usually complete a day or two after I complete a novel.
Now the actual writing process can go one of three ways from the time I type the first word to clicking publish.
There are times where I am like Nick from New Girl where I have a ton of ideas in my head about what I want to write and everything sounds great in my head, but I cannot get the words on the page.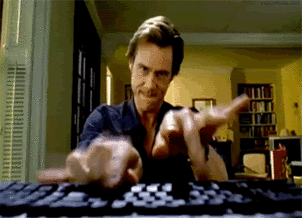 Other times, I can write everything down and I can record all of my thoughts in what seems like a few minutes. This is where I type a million words and then I quickly edit my thoughts just so they flow a little better than my initial draft.
On the other hand, there are times where I cannot string together any words to express my thoughts on a book even if I have a ton of opinions on different elements of the novel I either read or listened to.
While I like to follow my own timeline, I am not hard on myself if I cannot follow it. Some days I get distracted by other priorities, others I just procrastinate, and there are times where everything seems to get in the way. No matter the circumstances, the above is my ideal timeline that I typically follow.
---
How about you? How long do you take to write a review?