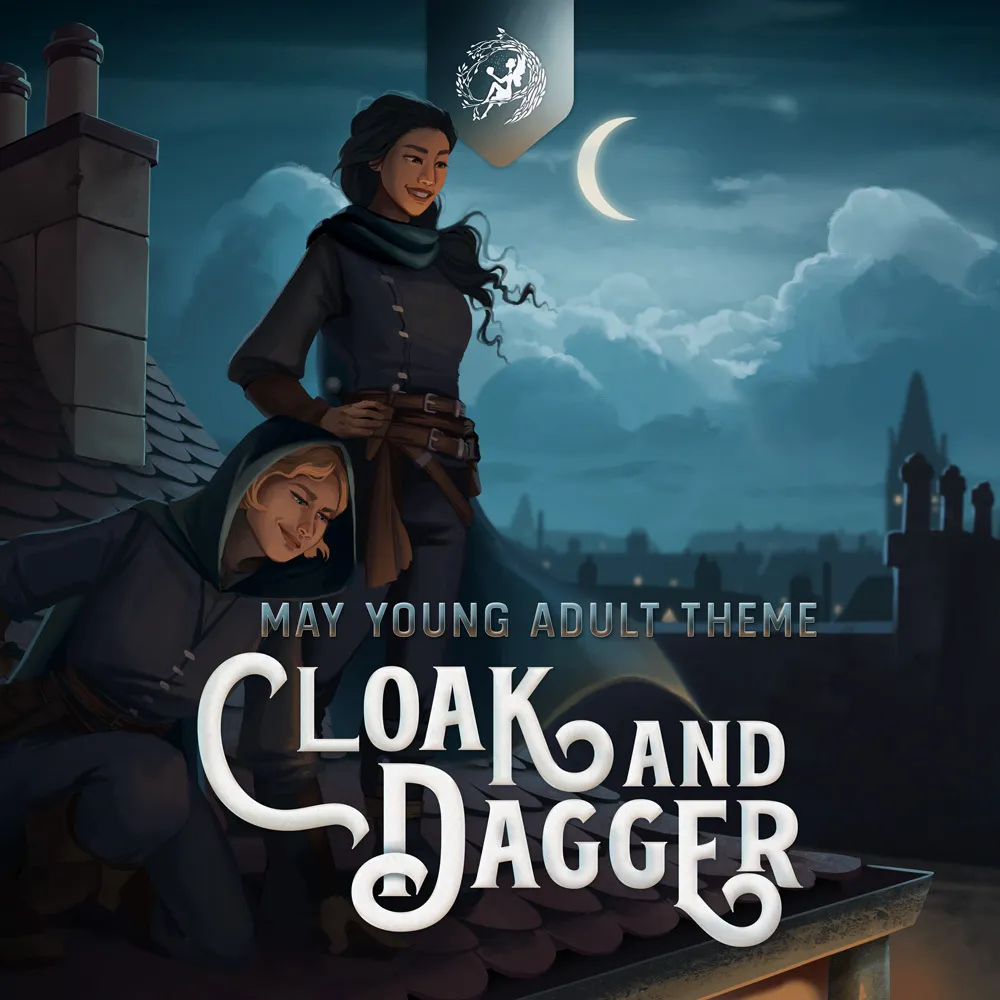 FROM FAIRYLOOT:

We are so excited to reveal the May theme for our Young Adult monthly box and it is… CLOAK & DAGGER!

Clandestine missions, midnight meetings and unlikely alliances… this is one of our favourite set ups for a high stakes fantasy book!

You can expect items inspired by From Blood and Ash, Red Rising, Daughter of the Moon Goddess and our featured book of the month. We are thrilled to reveal that this box will include a CERAMIC MUG and the next foil bookmarks in our mythology collection by @gracezhuart!

Our featured book of the month is inspired by stories from One Thousand and One Nights. It follows a legendary smuggler, a cowardly prince, and a dangerous quest across the desert to find a legendary, mythical lamp. This FairyLoot exclusive edition will have an EXCLUSIVE COVER, SPRAYED EDGES, FOIL ON THE FRONT AND BACK OF THE HARDCOVER, ARTWORK ON THE ENDPAPERS by @jhocaaa and is SIGNED BY THE AUTHOR! It will also come with a letter from the author.

Spots for new subscriptions are currently CLOSED, but you can sign up to the waiting list. The best way to get a subscription at the moment is to sign up to the waiting list – we invite people whenever more spots become available.

Gorgeous theme art by official FairyLoot artist @taratjah and text by official FairyLoot designer @blanca.design
---
---
---
Tarot Cards of the Month: The Empress & The Hierophant
---
The Empress & The Hierophant features Brie, Sebastian, and Finnian from These Hollow Vows by Lexi Ryan and are illustrated by @arz28.
---
This month's book-themed items:
---
---
Book of the Month: The Stardust Thief (The Sandsea Trilogy #1) by Chelsea Abdullah
Neither here nor there, but long ago…
Loulie al-Nazari is the Midnight Merchant: a criminal who, with the help of her jinn bodyguard, hunts and sells illegal magic. When she saves the life of a cowardly prince, she draws the attention of his powerful father, the sultan, who blackmails her into finding an ancient lamp that has the power to revive the barren land—at the cost of sacrificing all jinn.
With no choice but to obey or be executed, Loulie journeys with the sultan's oldest son to find the artifact. Aided by her bodyguard, who has secrets of his own, they must survive ghoul attacks, outwit a vengeful jinn queen, and confront a malicious killer from Loulie's past. And, in a world where story is reality and illusion is truth, Loulie will discover that everything—her enemy, her magic, even her own past—is not what it seems, and she must decide who she will become in this new reality.
Inspired by stories from One Thousand and One Nights, The Stardust Thief weaves the gripping tale of a legendary smuggler, a cowardly prince, and a dangerous quest across the desert to find a legendary, magical lamp.
---
This FairyLoot exclusive edition has an exclusive cover (above), digitally sprayed edges (below-right), artwork on the endpapers by @naiivu (above), and is signed by the author (below-left).
---
For this box, I have read Daughter of the Moon Goddess and From Blood and Ash. I still have many novels, including the featured story, to read soon.
---
For those that do not know as much about Fairy Loot, it is a monthly fantasy book subscription box.
---
NEXT MONTH"S THEME (JUNE) –
FROM FAIRYLOOT:

We are so excited to reveal the June theme for our Young Adult monthly box and it is… CHOSEN ONES!

The weight of the world is heavy, but some are chosen to carry this burden to protect others. This box is dedicated to the characters that are chosen to defy the odds and rise up against them!

You can expect items inspired by The Young Elites, The Poppy War, The Atlas Six and The Lord of the Rings. We are thrilled to reveal that this box will have a PAPERBACK BOOK, which comes with an exclusive redesigned cover, DIGITALLY sprayed edges and a digital signature. The story is an addictive high-stakes rom-com about twin princesses separated at birth!

Our featured book of the month is a swoon-worthy romantic comedy set in an Italian inspired fantasy world where a young girl's gift can either save… or kill. This FairyLoot exclusive edition will have an EXCLUSIVE COVER, STENCIL SPRAYED EDGES, FOIL ON THE HARDCOVER by @gabrielleragusi, ARTWORK ON THE ENDPAPERS by @gabrielleragusi and is SIGNED BY THE AUTHOR! It will also come with a letter from the author.

Spots for new subscriptions are currently CLOSED, but you can sign up to the waiting list. The best way to get a subscription at the moment is to sign up to the waiting list – we invite people whenever more spots become available.

Gorgeous theme art by official FairyLoot artist @taratjah and text by official FairyLoot designer @blanca.design
---
Until the next unboxing!